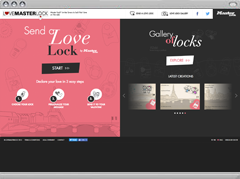 LoveMasterLock.eu
Love Locks Can Be Seen On Bridges All Over The World
In a tradition almost as old as love itself (well, over 100 years old anyway) the love lock has become a symbol of an undying bond between two new romantics.
Typically, sweethearts engraved their initials on to a padlock, attached it to a bridge and threw away the key, symbolising their eternal devotion - but why get rid of a perfectly good padlock?
Master Lock has given the love lock a modern makeover by helping romantics to send their partner, family members, and friends a digital declaration of love instead. It is ecological and free!
Declare your love in 3 easy steps. Send a Love Lock now!
Visit The Site