Introducing
the new
S-series
Aluminum
Safety
Padlocks
Designed for safety lockout
Full customization options
Durable to withstand tough environments
Look for the UL Environmental claim validation claim mark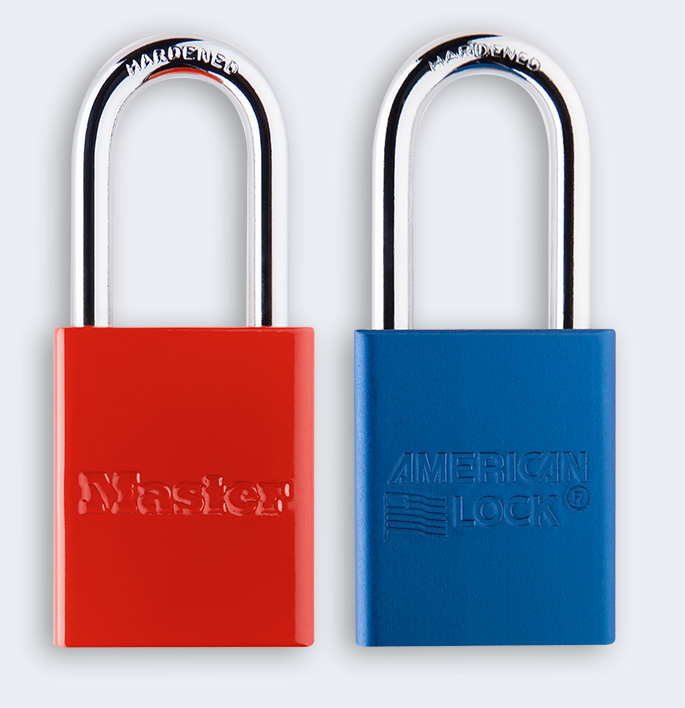 Expand to learn more
Plated boron alloy shackle
Expand to learn more
Vibrant baked on powder coated finish available in 6 colors
Expand to learn more
Durable aluminum construction for supreme corrosion resistance. Optional cover for enhanced protection
Expand to learn more
Anodized aluminum finish available in 9 colors
Expand to learn more
Durable aluminum construction for supreme corrosion resistance. Optional cover for enhanced protection
Expand to learn more
Plated boron alloy shackle
Expand to learn more
Master Lock S6835/6835 Series has been awarded a environmental claim validation from UL Environment
Expand to learn more
American Lock S1100/A1100 Series has been awarded a environmental claim validation from UL Environment
15 Colors, 2 Finishes,
3 shackle heights
Differentiate your padlocks with a variety of colors, finishes and shackle heights
Wide range of color options to match existing safety lockout color systems and even allows for easy identification of multiple types of authorized personnel.
Find out which safety padlock is right for you
Ultimate Key Integrity
Over 40,000 key changes available to meet virtually any system design
Comply with the one-lock, one-key per employee mantra
Master keyed system allows for responsible removal of improperly placed or forgotten lockouts according to your emergency notification policy
Keyed Different

Each lock is opened by its own unique key which does not open any other lock in the set.

Keyed Alike

All padlocks in the set are opened by the same key - only one key is necessary to open numerous padlocks.

Master Keyed

A master key opens all locks within the system while each lock also has its own unique key.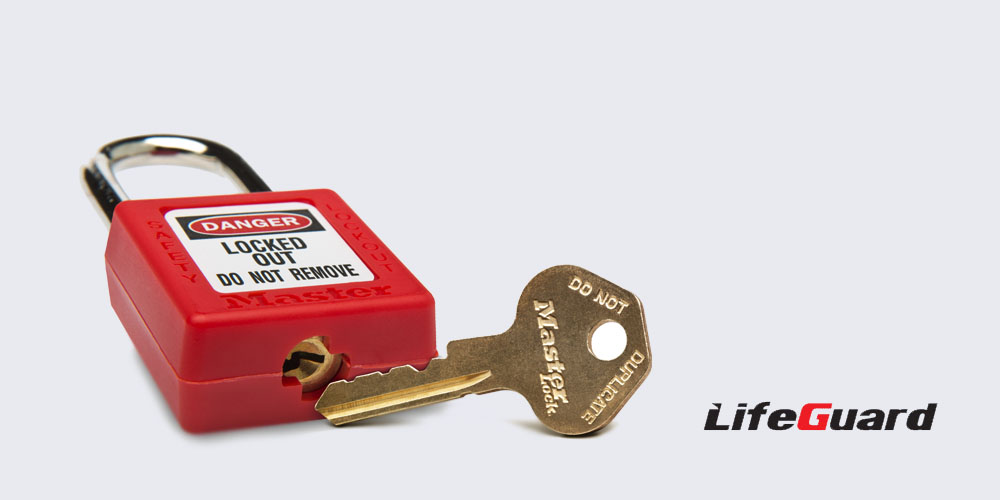 Expand to learn more
Controlled keyway is only available through Master Lock, eliminating unwanted field duplicates
Expand to learn more
Complimentary LifeGuard™ key record keeping ensures keys are not duplicated within a facility.
Custom Lock Identification
Clearly identify employees and isolation points within your facility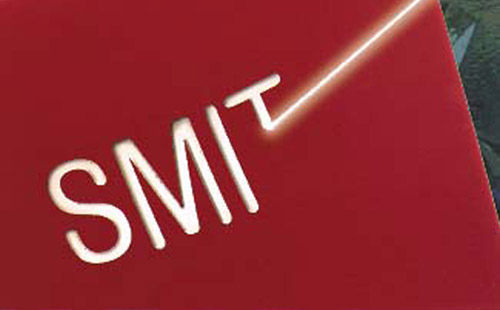 Laser Engraving
Permanent, durable addition of name, logo, key number or other important information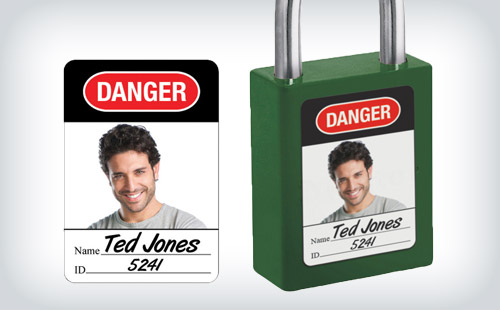 Padlock Labels
Add write-on and photo ID labels for easy employee identification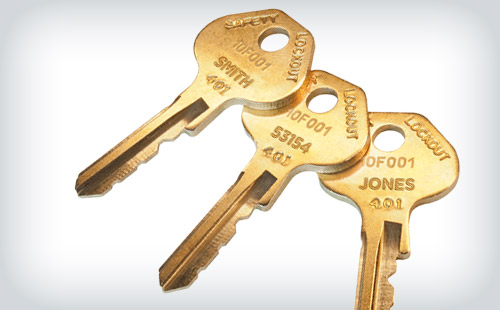 Key Stamping
Engrave identification information directly onto key head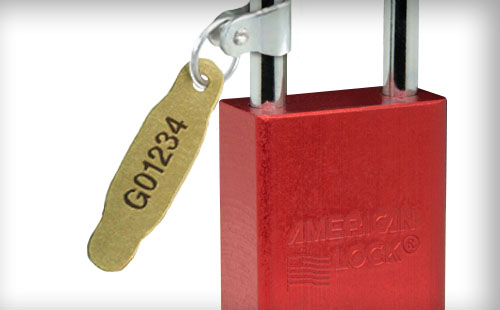 Padlock Tags
Engrave brass tags and permanently apply to padlock
Commitment to the environment
UL Environment awards Master Lock Safety Padlocks* with Environmental Claim Validation
Reduce – Our Master Lock Safety thermoplastic padlock bodies are molded using a hot runner injection molding process that results in virtually no scrap metal
Reuse – Precision engineering, durable materials and recommended padlock maintenance ensure all Master Lock Safety padlocks are long lasting
Recycle – Master Lock safety padlocks use a high percentage of recycled metal. Steel shackles, brass keys and cylinders, as well as our aluminum lock bodies are all manufactured using recycled material. These padlocks maintain a minimum amount of recycled content, with some at 65%!
Want to learn more about UL Environment? Visit the UL Environment website!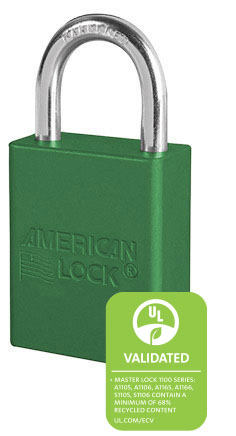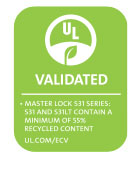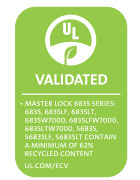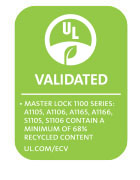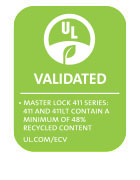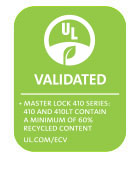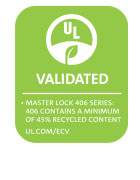 *Does not include Master Lock Safety Padlock Series #3, S32 and S33

Print this page

Print

>
Padlock Features
Customization options to meet your lockout system requirements
Series No.
S6835
S1100
410
Colors
Black, Blue, Green, Orange, Red, Yellow
Black, Blue, Brown, Clear, Green, Orange, Purple, Red, Yellow
Red, Yellow, Green, Teal, Black, Blue, Purple, Orange
Body Material
Powder Coated Aluminum
Anodized Aluminum
Thermoplastic
Validated Recycled Content
Minimum of 62% Recycled Content
Minimum of 65% Recycled Content
Minimum of 51% Recycled Content
Shackle Diameter
1/4" (6.35mm)
1/4" (6.35mm)
1/4" (6.35mm)
Model Number /
Shackle Height

S6835
1.0" (25.4mm)
S6835LF
1.5" (38.1mm)
S6835LT
3.0" (76.2mm)

S1105
1.0" (25.4mm)
S1106
1.5" (38.1mm)
S1107
3.0" (76.2mm)

410
1.5" (25.4mm)
410LT
3.0" (76.2mm)

Shackle Material
Boron Steel
Boron Steel
Plated Metal
Key Changes
40,000+
40,000+
40,000+
Key Retaining
Yes
Yes
Yes
No. of Keys
1 (Additional keys available as option)
1 (Additional keys available as option)
1 (Additional keys available as option)
Re-keyable
Yes
Yes
No
Weather Cover
S101 (Optional)
S101 (Optional)
400Covers (Optional)
Photo ID Labels
6835-5700 (Optional)
6835-5700 (Optional)
S142 (Optional)
Keyway
W401/W417 Exclusive safety keyway
W401/W417 Exclusive safety keyway
W401/W417 Exclusive safety keyway
Key System
Keyed Different, Keyed Alike, Master Keyed
Keyed Different, Keyed Alike, Master Keyed
Keyed Different, Keyed Alike, Master Keyed
Lifeguard™ Key Charting Service
Included free of charge
Included free of charge
Included free of charge