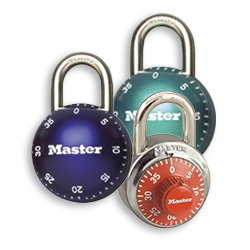 Locker Keying & Custom Options
Master Lock offers a variety of special services to customize your locker locks to best suit your organizations needs including colors, laser engraving, keying options & more.
Colored Dials
Choose a Color That Fits Your Organization

Personalize your Master Lock Combination Locker Locks with color to complement your school or organization – available on the SmoothSpin™ Series, 1500 Series and the 1600 Series Built-In Combination locks (metal dials only). Choose from a variety of colors available including Green, Blue, Purple and more!

1600 Series

Built-In Combination Locks

Choose Your Color BLK RED BLU GRN PRP

1500 Series

Combination Padlocks

Choose Your Color BLU GRN ORG PRP RED GRY GLD
Custom Logo & Text
Add Logos or Text to Your Lock

You can personalize the Master Lock Combination Locker Locks. Choose laser engraving or pad printing to add your organization's name or logo to the dial knob for enhanced aesthetics.

Laser engraving etches an image – logo or name, directly onto the dial, revealing the silver material underneath

Pad printing paints the organization's logo or name on the dial surface. There is a one-time set up charge for the die which is then stored for future orders.
Bumpers & Back Case Printing
Add bumpers to your portable combination padlocks to reduce locker wear and noise. Available in black, red and blue.

Specialized back case printing is available to add your custom text, engraved, in the back of your portable combination padlock.
Keying & Combination Options
Special Keying Options for Locker Locks

Keyed Alike

One key opens all locks in a system

Group Keyed

Four to seven people have access to the same full-length locker as well as to their individual box lockers

Master Keyed

While each lock has its own key, the master key will open all locks within the system
Special Combination Options for Locker Locks

Combination Alike

Two or more locks available with identical combinations for added user convenience
Shackle Variations
Master Lock Portable Combination padlocks are available with multiple different shackle size options to be sure to fit your application.

Shackle Variations
Shackle Heights
Shackle Material
1502
22mm

38mm

51mm

Hardened Steel
1525
22mm

38mm

51mm

Hardened Steel
2076
22mm
Hardened Steel
2002
13mm

28mm

Boron Alloy
2010
13mm

28mm

Boron Alloy