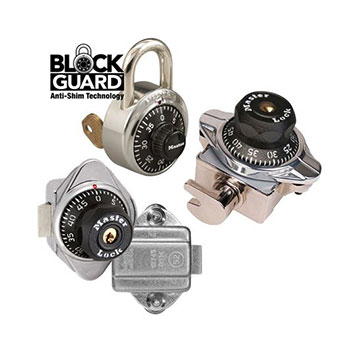 Innovation & Great Technologies
Master Lock strives to provide products and solutions using the latest technology & innovation.
BlockGuard® Anti-Shim Padlock Technology
Master Lock has Upgraded the Combination Padlock with BlockGuard® Anti-Shim Technology

Leading the market with innovative security solutions, Master Lock offers the patented BlockGuard Anti-Shim Technology – the very best in shim deterrence for combination padlocks.

These enhanced combination locks deter shimming, a method of violating a lock by inserting a specially designed shim tool into its latch mechanism. BlockGuard has unique flat technology that actually blocks typical shimming tools from opening the lock – deterring break-ins.

Master Lock exclusive BlockGuard Anti-Shim Technology is available on Models 1502, 1525, 1572, 1585 and 2076.

More about BlockGuard Anti-Shim Technology
Wrap Around Latch™ Technology
The Best Lock for Single Point Latch Lockers!

The patented model 1690, 1695MKADA and 1790 built-in locks use the same technology as an automotive door lock system, utilizing slam shut operation combined with a rotating latch that wraps around the latch plate. Designed for Single Point Latch Lockers, these locks provide the most robust design and requires the least adjustment for proper operation.

Less Maintenance, More Security, Easy-to-Use

Extremely Pry Resistant

The lock latch can not be easily separated from the latch plate through horizontal vertical prying.

Increased Horizontal Tolerance

Even in the case of ventilated lockers, the 1690/1790 hold strong as the Wrap Around Latch prevents the use of shims and similar techniques for opening the door.

Extremely Shim Resistant

A wider operating range reduces the need for call backs or future maintenance adjustments. This saves your facility time and money.
Button-less Combination Change Process
No Buttons to Push | No Doors to Open | No Accidental Combination Changes

Master Lock's newest technology, the Button-less Combination Change process allows staff to easily change built-in lock combinations for the new year and reduce maintenance time.

We've removed the button on the back case of the lock, so the whole process can be performed on the outside of the locker door with just your control key. No more opening every single locker door in your facility!

Without the button, you won't have to worry about accidental combination changes due to an overstuffed locker, which will save time throughout the year.

See Video