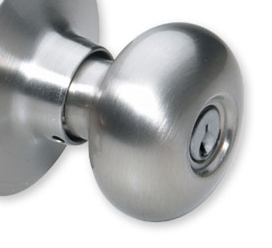 Door Hardware Tools & Resources
Master Lock offers the tools & resources to help you choose the right door hardware for you and provides information on installation and maintenance.
Choosing the Right Door Hardware
At Master Lock, we want you to be sure that you have selected the door hardware product that best suits your needs. Here is some helpful information to aid in the selection process. Which function is right for you?
Common Terms & Glossary
You can use the information contained here to find helpful definitions of commonly used terms to aid with the selection process.

Backset

The measurement between the edge of the door to the center of the hole drilled for the lock.

Cylinder

The round assembly of the lock which provides the ability to lock a door through the tumbler and the keyway.

Fixed Interior

A term used to describe a stationary piece of door hardware that does not provide any latching function for the door.

Finish

The color of the metal of the door hardware.

Function

The type of door hardware used by a specific entry or door. Example "Bed/Bath", "Hall/Closet" or "Entry".

Handing

Some styles of levers are handed, usually due to a curved lever design. There are left–handed levers and right-handed levers. To determine the appropriate handing for your door, look at the hinges from the exterior side of the door. As you stand outside facing the door, if the hinges are on the left, you require a left–handed lever. If the hinges are on the right, you need a right–handed lever.

Handleset

The door hardware that encompasses a grip or handle along with a deadbolt function to lock the door.

Thumbturn/T–turn

The small knob or lever turnpiece on the inside or inner trim that operates the deadbolt function.
Installation Instructions
General Installation Information

The following information is designed to provide assistance pre–purchase and post–purchase and will help ensure that you choose the right Master Lock for your application.

All Master Lock products are packaged with installation instructions. If the package you have purchased does not contain installation instructions, please download your instructions below. You will need to know the the model number which can be found on the package.

New Construction or Remodeling?

When choosing door hardware, there are two types of installation. For new construction or remodeling, new doors can be purchased with or without pre–drilled holes. Adding locks to doors with pre–drilled holes is a simple process for the average do–it–yourselfer. If you choose a door without pre–drilled holes, you will need to prepare the door for the hardware installation. This preparation includes drilling holes in the edge and in the face of the door which can be a complicated process. If you feel this preparation is beyond your capabilities, many home centers and specialty door shops will drill the holes for you.

On the edge of each door with pre–drilled holes, there is a door latch cut–out. This cut–out usually comes in "radius edge" or "square edge". Less common but more prominent in certain areas of the country is a "drive–in" door preparation. If the door has a 1" hole drilled in the edge, a latch is "driven" into the door, wedging it into the core of the door.

Door Thickness

Most standard doors have a thickness of 1–3/4", but it is necessary to measure this dimension to determine what your needs are for your door hardware. Please refer to the installation instructions and technical specifications of each Master Lock product to make sure your door and the door hardware you choose are compatible.

Backset Measurements

The backset is the measurement between the edge of the door to the center of the hole drilled for the lock. Several types of latches are available, and normally are adjustable from 2–3/8" to 2–3/4". To determine your backset, measure the distance from the center of the hole drilled in the face of the door, to the door edge.

Plain Latch

1/2" beveled latch used primarily for interior doors (interior locking and non-locking functions).

Latch Information

The latch is the mechanism that throws the bolt when the knob, lever, handleset or deadbolt is turned. There are four types of latches:

Deadlatch

1/2" beveled latch with a deadlocking bar used for keyed applications. The deadlocking bar prevents the latch from being forced back and deters credit card entry.

Deadbolt

1" throw bolt that locks into position and cannot be forced back. It contains a hardened steel pin to prevent saw through attempts.

Adjustable Latch

An adjustable latch allows the door hardware you choose to be used on doors prepared with either a 2–3/8" backset or a 2–3/4" backset. (The backset is the measurement from the edge of the door to the center of the pre–drilled hole.)
ANSI/BHMA Grading System
The ANSI/BHMA industry standards exist to help identify the quality and durability of locksets via a series of operational and security tests. Following is a guide to how the standards are set. BHMA (Builders Hardware Manufacturers Association( is accredited by the American National Standards Institute (ANSI), a private non–profit organization that administers and coordinates the voluntary standardization to develop and maintain performance standards for builder's hardware. ANSI/BHMA standards set forth different product grades for door hardware products. These product grades are defined by progressive levels of performance benchmarks in each applicable standard.

So what does this mean to me?

Grade 3 Good: Residential Security
Grade 2 Better: Light Commercial and Heavy Residential
Grade 1 Best: Heavy Commercial Use

Each grade specifies minimum acceptable requirements for:

Operation i.e.: key torque; cycles
Security i.e.: pull strength, impact resistance finish